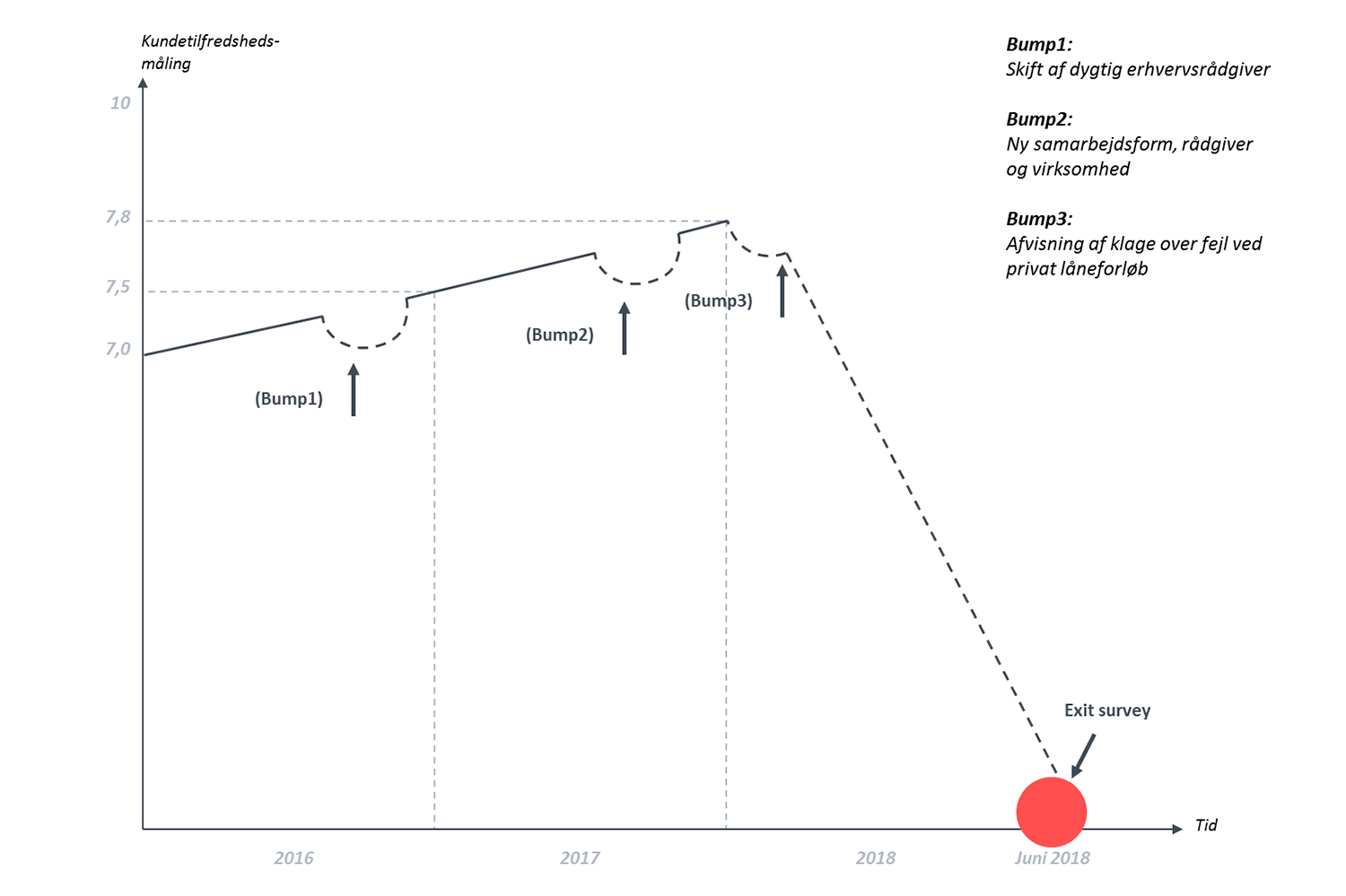 Figuren viser en erhvervsvirksomhed med 50 ansatte, der gav en tilfredsheds-score på 7,8 til sin bank. Kunden oplevede tre uidentificerede og ureparerede små "bump" i samarbejdet med sin bank. Det udløste et uventet kundetab for banken.
I 20 år har kundetilfredshed haft topprioritet. Alle gør noget. Der måles i touch points; i NPS, efter modeller – eller der organiseres om til relations-skabelse; customer centric eller indføres CRM (customer relation management) eller CFMP (customer feedback management platform).
Men skal du i dybden med forståelsen af dine kunders Stay-on (levetid), skal du arbejde med BUMP-modellen (bump som huller i vejen). To-tre "bump" i samarbejdet, så er din kunde på vej væk – uanset en "pæn" kundetilfredshedsmåling.
Jeg har i 20 år lavet mange Exit-studier sammen med mine kolleger. Vi har gjort to væsentlige "findings", som kan øge dine kunders Stay-on:
Du skal have kendskab til den enkelte kundes tilfredshedsniveau. Hvis den er under 9-10 på en 10-punktsskala, så vil to-tre små "bump" med stor sandsynlighed udløse et Exit (kundetab).

"Bump" skal opdages og repareres, som huller i vejen skal. De må ikke akkumuleres.
Der findes løsninger, så BUMP-exits kan standses.
Få styr på de 7 mest sandsynlige "bump" i din branche og kontakt mig for en snak om en løsning, så nye kundetab kan forebygges effektivt.
Bedste hilsner
John Aalund
---